Dental Implants – Honolulu, HI
The Closest You'll Get to Natural Teeth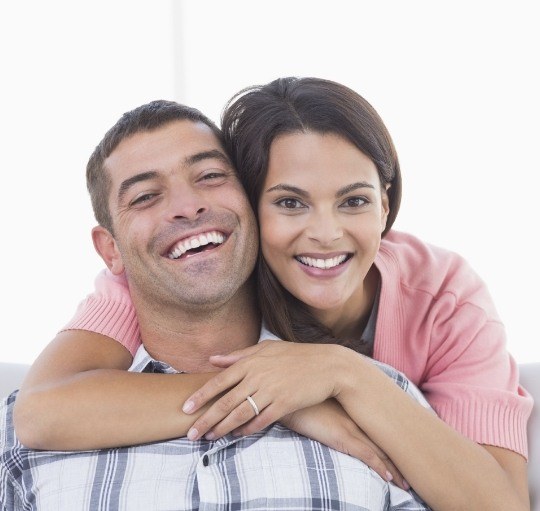 When faced with missing teeth, you shouldn't be made to feel as if you must settle for anything but the best. When it comes to tooth replacement, you cannot beat the benefits that come with dental implants. Because they are the closest you'll get to natural teeth, you'll enjoy a more natural appearance as well as better oral health. At Dentaworks Hawaii, we pride ourselves on keeping the entire process in-house, which is why we bring the specialists to you. Whether you need traditional dental implants or All-on-4, we have what you need to smile confidently again. Call us today to learn more about dental implants in Honolulu.
Why Choose Dentaworks Hawaii for Dental Implants?
We Bring the Specialists to You
All-on-4/Hybrid Dental Implants Available
Cone Beam Scanner for More Accurate Treatment Planning
What Are Dental Implants?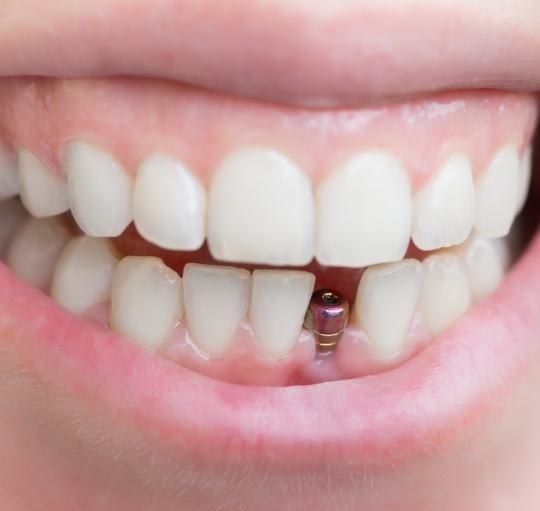 As the only tooth replacement solution capable of restoring tooth roots, dental implants are typically made out of titanium because of how well it fuses to bone tissues. Placed within the jawbone, they integrate to create a firm foundation for a customized restoration, which can include a dental crown, bridge, or denture. With optimal care, these prosthetics are known to last a lifetime and create improved functionality when eating, speaking, or smiling.
The 4-Step Dental Implant Process
Initial Dental Implant Consultation; You will meet with Dr. Wong to discuss your oral and overall health as well as your jawbone density. After diagnostic imaging and a visual exam, he will determine if you're a candidate for treatment and if you require preliminary services such as bone grafting, gum disease treatment, or tooth extraction.
Dental Implant Surgery: Dr. Wong keeps the entire dental implant process in-house, which means he and his team work together with local specialists to ensure that your new teeth are firmly in place. We administer local anesthesia before making small incisions in the gums to place each implant. We then close the gums before sending you home to recover.
Dental Implant Osseointegration/Abutment: Over the next 3-6 months you will continue to recover from your surgery, allowing the bone and implants to fuse. You will then return to have your metal abutments put into place so that your restoration can properly connect.
Delivery of Dental Implant Restoration(s): Before you can begin enjoying your new smile, you will need to receive your customized implant crown, bridge, or denture. Crafted from the best materials on the market, we will ensure it first correctly, feels comfortable, and looks natural.
Benefits of Dental Implants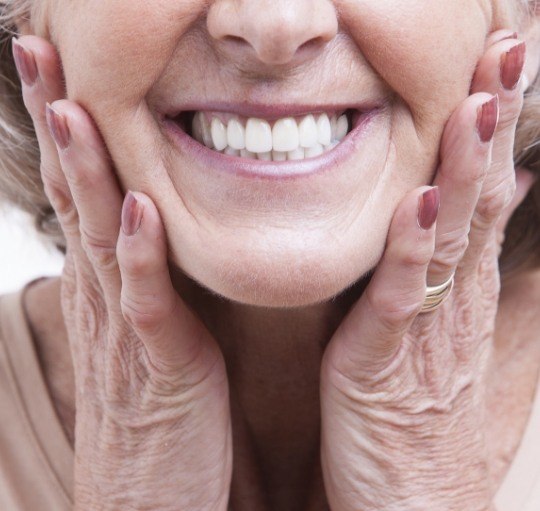 The benefits you can expect to receive when choosing dental implants are many. From improved oral health and optimal stability to greater longevity and permanence, you'll be pleased by the advantages that come with these prosthetics. Not to mention, they also offer functionality that allows you to eat your favorite foods, reduced risk of systemic issues that are linked to tooth loss, and a more natural-looking appearance that leads to greater confidence.
Who Dental Implants Can Help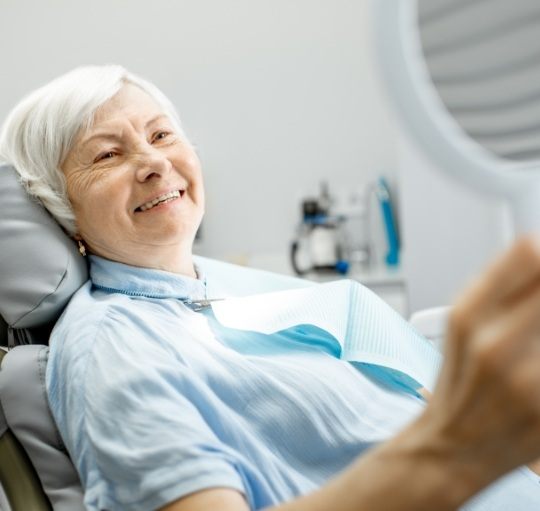 If you are an adult with missing teeth, there is a good chance you can receive dental implants. However, you may or may not be eligible to undergo minor oral surgery right away. A thorough consultation with our implant dentist will determine if you require preliminary treatment or if you're cleared to have your implants put into place. It is also during this visit that we will discuss the versatility of these prosthetics, allowing you to replace any number of missing teeth, such as:
Missing One Tooth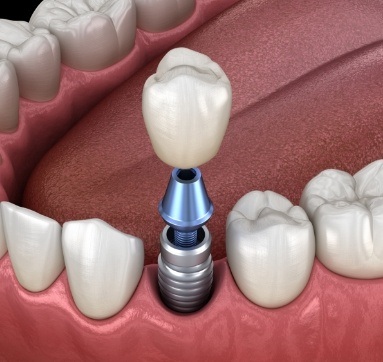 With more than 120 million people living with a single missing tooth, this problem can be addressed with a single dental implant post, a metal abutment, and a customized dental crown. Instead of going through life with an incomplete smile, you can enjoy improved confidence and function.
Missing Multiple Teeth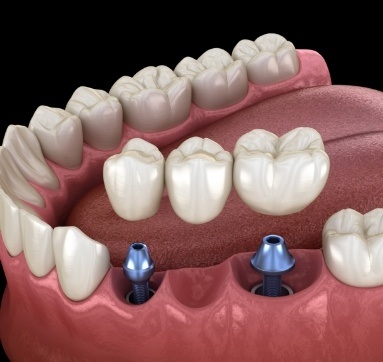 While a fixed dental bridge requires altering healthy abutment teeth, we don't need to touch these structures when placing an implant bridge. Using two implant posts, we can place them within the jawbone and attach a customized bridge on top. This will fill in the gaps and leave the remainder of your smile alone.
Missing All of Your Teeth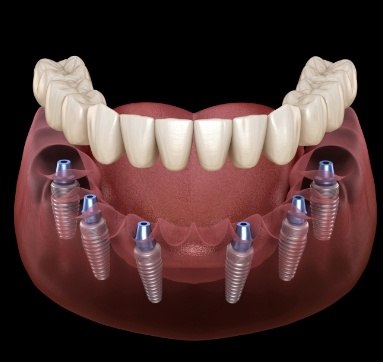 If you are missing all of your teeth, you have the option of moving forward with implant dentures. Consisting of 4-6 implant posts, we can create a customized denture that sits on top. Providing greater stability and durability, you can enjoy eating all your favorite foods without the worry of accidental slippage or your teeth falling out.
Understanding the Cost of Dental Implants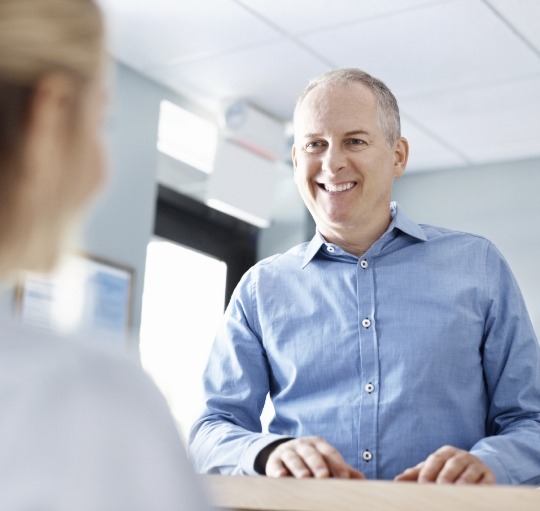 The cost of dental implants varies from person to person. This is why a scheduled consultation with Dr. Wong is essential. In speaking about your oral and overall health, he can determine various factors that will make it easier to formulate a cost estimate. Once that is established, our team will work with you to identify ways to maximize your dental insurance benefits as well as discuss alternative payment options should you need them.